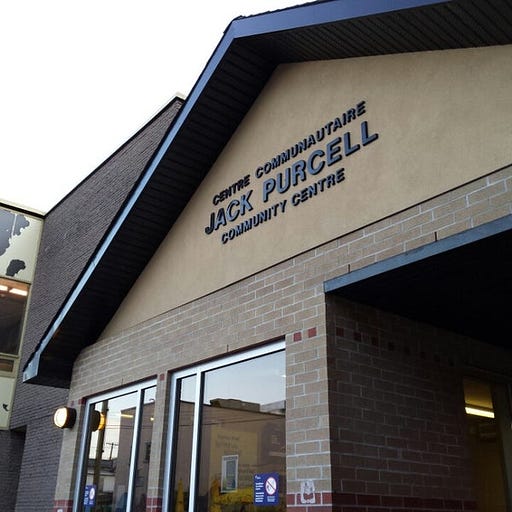 Mar 2 • 43M
The Gifts at Church - 1 Corinthians 14
Message six in the "Gifts of the Spirit" series
Here's a spot for keeping some of the messages I did in Ottawa from 2004 through 2021. Many of these I'm quite proud of, and hope they could still be a blessing beyond their initial audience. And, because of the nature of what the Lord did, I'm hopeful, this will provide a spot to go back and remember afresh a specific moment.
This was recorded on Saturday, April 20th, 2013 around 6:30pm on the second floor of the Jack Purcell Community Center off of Elgin Street in downtown Ottawa.
In this sixth message, I again followed the format from Pastor Chuck Smith in his superb book, "Living Water," by defining each of these gifts by their use in the Old Testament, the life of Jesus and the New Testament. From there, I typically would crowd-source examples from our time.
One of the things we began to do around this time was to add an additional hour to our meeting time on the last Saturday of the month for what we called "Afterglow." It was a time that we set aside to put into practice the things we read in 1 Corinthians 14. These times were very, very special in the life of many people, as the Lord ministered to them deeply, as we set aside time to minister to him.
Here are my notes from the evening:
INTRO:
1 Corinthians 12: - 12 Now concerning spiritual gifts, brothers, I do not want you to be uninformed.
Just curious, how many have been here for each study in this series? Has it been rich? Have you learned something? Do you feel uninformed?
Tonight, we are going to wrap it up, and look at how these spiritual gifts are to be used in the church, but a quick review for folks that might have missed some of it.
2 You know that when you were pagans you were led astray to mute idols, (what kind of idols? MUTE) however you were led. 3 Therefore I want you to understand that no one speaking in the Spirit of God ever says "Jesus is accursed!" and no one can say "Jesus is Lord" except in the Holy Spirit.
Is the Holy Spirit mute? (NO!)
Is He speaking? (YES!) How is He speaking in the world today? (ALONGSIDE - John 16:7, INSIDE - John 14:15, UPON - Acts 1:8)
4 Now there are varieties of gifts, but the same Spirit; 5 and there are varieties of service, but the same Lord; 6 and there are varieties of activities, but it is the same God who empowers them all in everyone.
How can we tell it's the Spirit of God in all of this variety? What are two ways we can discern something spiritual or supernatural is from the Holy Spirit? (LOVE, WITNESS OF JESUS)
7 To each is given the manifestation of the Spirit for the common good.
So, who are these gifts for? Is there anyone who is left out? Does it matter if you've been good or bad? Can you earn them? Are they rewards? How are the gifts received? (BY FAITH!)
Only 2 ways that I can think of that a person wouldn't receive the gifts of the Spirit... First, it's doubting, not having faith, not receiving them by faith...
James 1:6 But let him ask in faith, with no doubting, for the one who doubts is like a wave of the sea that is driven and tossed by the wind. 7 For that person must not suppose that he will receive anything from the Lord; 8 he is a double-minded man, unstable in all his ways.
Hebrews 11:6 -  6 And without faith it is impossible to please him, for whoever would draw near to God must believe that he exists and that he rewards those who seek him.
Galatians 3:5 - 5 Does he who supplies the Spirit to you and works miracles among you do so by works of the law, or by hearing with faith?
The other reason would be pride...
James 4:6 - 6 But he gives more grace. Therefore it says, "God opposes the proud, but gives grace to the humble." 7 Submit yourselves therefore to God. Resist the devil, and he will flee from you. 8 Draw near to God, and he will draw near to you. Cleanse your hands, you sinners, and purify your hearts, you double-minded. 9 Be wretched and mourn and weep. Let your laughter be turned to mourning and your joy to gloom. 10 Humble yourselves before the Lord, and he will exalt you.
7 To each is given the manifestation of the Spirit for the common good. 8 For to one is given through the Spirit the utterance of wisdom, and to another the utterance of knowledge according to the same Spirit, 9 to another faith by the same Spirit, to another gifts of healing by the one Spirit, 10 to another the working of miracles, to another prophecy, to another the ability to distinguish between spirits, to another various kinds of tongues, to another the interpretation of tongues. 11 All these are empowered by one and the same Spirit, who apportions to each one individually as he wills.
So, the question that we want to examine tonight, is how is all that put together. What does it look like in the church? How are these gifts used in the church service, and how are they to be learned, and how are we to have an opportunity to get familiar with them?
Fast forward to 1 Corinthians 14:26, Paul will conclude this study on the gifts of the Spirit by talking about how the church service is to be run.
1 Corinthians 14:26 - 26 What then, brothers? When you come together, each one has a hymn (that's a song, which is what Andrew did for us tonight), a lesson (that's what I'm doing right now), a revelation, a tongue, or an interpretation. Let all things be done for building up. 27 If any speak in a tongue, let there be only two or at most three, and each in turn, and let someone interpret. 28 But if there is no one to interpret, let each of them keep silent in church and speak to himself and to God. (interesting, it's the only gift that a limit is put on, but at the same time it's not to be forbidden, but encouraged within a Biblical limit) 29 Let two or three prophets speak, and let the others weigh what is said. 30 If a revelation is made to another sitting there, let the first be silent. 31 For you can allprophesy one by one, so that all may learn and all be encouraged, 32 and the spirits of prophets are subject to prophets. 33 For God is not a God of confusion but of peace.
As in all the churches of the saints, 34 the women should keep silent in the churches. For they are not permitted to speak, but should be in submission, as the Law also says. 35 If there is anything they desire to learn, let them ask their husbands at home. For it is shameful for a woman to speak in church.
36 Or was it from you that the word of God came? Or are you the only ones it has reached? 37 If anyone thinks that he is a prophet, or spiritual, he should acknowledge that the things I am writing to you are a command of the Lord. 38 If anyone does not recognize this, he is not recognized. 39 So, my brothers, earnestly desire to prophesy, and do not forbid speaking in tongues. 40 But all things should be done decently and in order.
Let's talk about the women first, that's what everyone in North America gets jumpy about. It's almost conclusive among Bible Scholars that what Paul is referring to is women talking during the service, really just being a distraction. We don't have that problem in North America. Some people take those verses to mean that women shouldn't speak at all in the church, but when you look at the context, Paul seems to be addressing the problem of too many people talking at one time, and there's no order, too many disruptions and distractions. And, for whatever reason, in that culture at that time, women were the ones that were discussing things during church. Now, they just text each other... No, sorry, it's not the women that are doing that... it's the guys!
At any rate, the point that Paul wants to get across is in verse 40 - All things should be done decently and in order, and in verse 33 - God is not a god of confusion but of order.
Honestly, we don't have that problem in North America. We have the opposite problem. We have the problem that there's not enough people talking during the church service.
Look again at verse 26 - each one has a hymn, a lesson, a revelation, a tongue, or an interpretation. Let all things be done for building up.
Look at verse 31 - 31 For you can all prophesy one by one, so that all may learn and allbe encouraged,
Paul is putting out there the expectation that all would prophesy, that each would have hymn, a lesson, a revelation, a tongue or an interpretation.
We don't have enough people talking in our church services...
This is why once a month, on the night that we share in communion, we plan for time to give everyone in the church an opportunity to do exactly that. It's generally the last Saturday of the month. We take an extra hour, just spend it worshipping and ministering to the Lord, and then usually, there's an opportunity to pray for one another and for the gifts of the Spirit to be used. Certainly, for each and all to participate.
Here's the payoff...
verse 31 - So that all may be encouraged, so that all may learn,
verse 26 - Let all things be done for building up.
chapter 12, verse 7 - To each is given the manifestation of the Spirit for the common good.
Can I give you a little secret in the New Testament. When you look up the word 'strengthen' or 'strengthened' in the New Testament, in each context there's an allusion to the gifts of the Spirit or the work of the Spirit in someone's life. It's a great Bible Study, just running a search for that word at blueletterbible.org, or biblegateway.com or youversion.com
How do we end a series on the gifts of the Spirit, a Bible Study on how they are to be used in a church? We do it!
Other references:
1 Corinthians 4:7 - 7 For who sees anything different in you? What do you have that you did not receive? If then you received it, why do you boast as if you did not receive it?
Acts 11:27 - 27 Now in these days prophets came down from Jerusalem to Antioch.
Acts 13:1 - Now there were in the church at Antioch prophets and teachers, Barnabas, Simeon who was called Niger, Lucius of Cyrene, Manaen a lifelong friend of Herod the tetrarch, and Saul. 2 While they were worshiping the Lord and fasting, the Holy Spirit said, "Set apart for me Barnabas and Saul for the work to which I have called them." 3 Then after fasting and praying they laid their hands on them and sent them off.
Acts 15:32 - 32 And Judas and Silas, who were themselves prophets, encouraged and strengthened the brothers with many words. 33 And after they had spent some time, they were sent off in peace by the brothers to those who had sent them. 35 But Paul and Barnabas remained in Antioch, teaching and preaching the word of the Lord, with many others also.
Acts 21:8 - 8 On the next day we departed and came to Caesarea, and we entered the house of Philip the evangelist, who was one of the seven, and stayed with him. 9 He had four unmarried daughters, who prophesied. 10 While we were staying for many days, a prophet named Agabus came down from Judea.
Ephesians 3:16 - 16 that according to the riches of his glory he may grant you to be strengthened with power through his Spirit in your inner being,